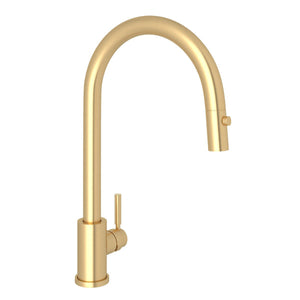 ---
Rohl U.4044SEG-2 Perrin & Rowe Holborn Kitchen Faucet Features
Dual-spray functionality with ability to toggle between stream and spray settings
Flow rate of 1.75 GPM at 60 PSI for effective cleaning while optimizing water usage
Retractable pull-down metal handspray with secure docking system
Swivel spout rotates for greater sink accessibility
Matching Bar/Food Prep kitchen faucet is available
Nylon braided hose delivers quieter functionality
Ceramic disc cartridge for durability and long-lasting performance
Solid brass construction delivers the utmost in beauty, durability and long-lasting performance
Rohl U.4044SEG-2 Perrin & Rowe Holborn Kitchen Faucet Specifications
Brass construction
Metal lever only
Dual spray with lock in modes
2 1/2" max installation deck depth
1/4-turn ceramic disc control cartridge
9 1/2" reach swivel C-spout
Retractable pull-down metal handspray
Nylon hose
Utilizes quick connects for easy installation
1.75 GPM @ 60 PSI
5-YEAR LIMITED WARRANTY
Style: Transitional
Hole Configuration: 1
Deck Mount
Shape: High Neck
Spray Type: Dual Function
Prop 65: Yes
CSA Approved (CSA Code: B125.1)
ASME Approved (ASME Code: A112.18.1)
Rohl U.4044SEG-2 Perrin & Rowe Holborn Kitchen Faucet
 Documentation
---

Rohl U.4044SEG-2 Perrin & Rowe Holborn Pulldown Kitchen Faucet in Satin English Gold with Metal Lever Handle
$1,44200

$1,442.00

Save $480
---
---
Ships within 2 - 3 business days
Free Shipping on All Orders!
No Sales Tax Outside of PA!
---
---
Holborn, often regarded as the heart of London, serves as the muse for the Holborn Collection. Once a haven for London's artistic and literary influences, the area now boasts an eclectic mix of architectural styles, spanning from Baroque and Tudor to contemporary hotels and office buildings. The Holborn Collection exudes a contemporary yet timeless aesthetic, capable of harmonizing with a broad spectrum of decor styles, from traditional to modern and everything in between. Crafted in Great Britain by skilled artisans employing time-honored hand-casting and polishing techniques.
Perrin & Rowe pullout kitchen faucets and pulldown kitchen faucets are renowned for their classic and ornate English design, enhancing traditional kitchen settings with their exquisite style and unwavering performance. All Perrin & Rowe products are meticulously designed and manufactured in England, incorporating cutting-edge manufacturing processes and valve technology, including Fluhs' quiet and durable cartridge. This fusion of genuine luxury and exceptional performance elevates your kitchen experience.
Transitional faucets, fixtures, hardware, and accessories infuse a contemporary twist into traditionally decorated homes. This style seamlessly blends elements of both traditional and contemporary design, exuding elegance and lasting appeal. If your home is a testament to your unique taste, featuring a curated mix of eras and design elements, opting for a transitional faucet or fixture is a sensible choice. In transitional decor, every room takes on its own unique character. This style liberates you from the constraints of rigid modern or traditional aesthetics, allowing you to combine them cohesively. While it may initially appear eclectic, the key to success lies in selecting elements that harmonize while reflecting your personal style. You're not confined to specific aesthetics, and you have the freedom to experiment until you find the perfect blend. When it comes to your hardware and fixtures, you can express yourself and create spaces that spark conversations, attract attention, and leave a lasting impression. Transitional style offers flexibility.
Perrin & Rowe's Satin English Gold Finish exudes regal opulence, yet it possesses a more subdued quality compared to English Gold. It boasts a muted sheen, akin to the gold adorning ornate wooden art frames. This finish is an excellent choice for those who adore the warm, rich hues of gold but desire a finish that better conceals water spots and fingerprints. Satin English Gold imparts a distinctively warm and luxurious ambiance compared to synthetic coatings. Perrin & Rowe products feature top-quality plated and hand-brushed finishes, frequently exceeding industry thickness standards by double. This results in a finish that genuinely captures the sheen and opulence of an authentic decorative item, rather than approximating the color of mass-produced items. Our finishes are thoughtfully crafted to ensure years of enduring beauty with standard care and maintenance.
---