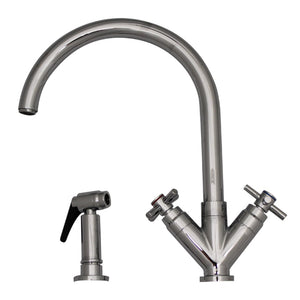 ---
Whitehaus 3-03942CH85-C Kitchen Faucet Specifications
Weight (lb.): 9
Color/Finish: Polished Chrome
Material: Brass
Product Type: Kitchen Faucet
Installation Type: Single Hole
Flow Rate (GPM): 1.5
Spout Height (in.): 9.25
Spout Reach (in.): 10.25
Handle Type: Cross
Number of Handles: 2
cUPC Certification: YES
NSF/ANSI 61: YES
Low Lead Compliant: YES
WaterSense Compliant: YES
Prop 65: Yes
Item Height (in.): 15
Whitehaus 3-03942CH85-C Kitchen Faucet Documentation
---

Whitehaus 3-03942CH85-C Luxe+ Dual Handle Faucet with Gooseneck Swivel Spout and Side Spray
---
---
Ships within 2 - 3 business days
Free Shipping on All Orders!
No Sales Tax Outside of PA!
---
---
Whitehaus Collection offers smooth lines and functionality with the Luxe and Luxe+ kitchen faucets. The grand design of the gooseneck swivel spout adds character to any decor, while the faucet's handles create simple control of water pressure and temperature. Both Luxe and Luxe+ are available in different styles and finishes, and are as luxe as they sound.
Whitehaus 3-03942CH85-C Kitchen Faucet Features
"V" shaped cross style handles
Solid brass side spray
Gooseneck swivel spout
---