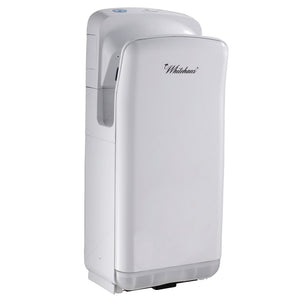 ---
Whitehaus WH666-WHITE Kitchen Hand Dryer Specifications
Weight (lb.): 20
Color/Finish: White
Material: ABS
Product Type: Kitchen Hand Dryer
Installation Type: Wall Mount
Prop 65: No
Item Length (in.): 11.5
Item Width (in.): 8.75
Item Height (in.): 27
Whitehaus WH666-WHITE Kitchen Hand Dryer Documentation
---

Whitehaus WH666-WHITE Wall Mount Hands-Free Hand Dryer
---
---
Free Shipping on All Orders!
No Sales Tax Outside of PA!
---
---
Whitehaus Collection's vertical "hands in" Hand Dryer is an eco-friendly alternative to paper towels. At an impressive 27" in height, this surface-mounted unit with hands-free operation allows the sensors to detect your hands and once removed, the dryer automatically turns off. This unit is equipped with a drainage tray to capture any excess moisture leaving the walls and floors free of water. Powerful at 1500W, this sleek design hand dryer is constructed from an ABS material which is durable, scratch resistant, and similar to what is used on car a bumper that allows it to bounces back to its original form. The vertical hands-in, automatic, surface-mounted Hand Dryer is equipped with two motors and comes prewired with a polarized wall plug, eliminating the need to hard wire. This elegant and sleek design intelligently combines the flexibility you want with the energy efficiency you need, all while providing the performance your customers demand in any high traffic area.
Whitehaus WH666-WHITE Kitchen Hand Dryer Features
ABS Plastic
Two Motor
Power: 1500 W / Voltage: 110V
Operating frequency 60 Hz
87 Decibel
XPI1
CE
---