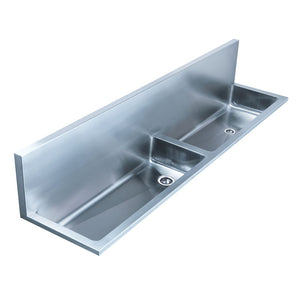 ---
Whitehaus WHNCD72 Kitchen/Utility Sink Specifications
Weight (lb.): 55
Color/Finish: Brushed Stainless Steel
Material: Stainless Steel
Product Type: Kitchen/Utility Sink
Bowl Shape: Rectangle
Installation Type: Wall Mount
Recommended Drain: NRNW2, WC2BASK
Number of Bowls: 2
Drain Location: Right Center/Offset
Prop 65: No
Inside Bowl Dimensions: 33.5" x 13" x 6"
Item Length (in.): 72
Item Width (in.): 16
Item Height (in.): 17
Whitehaus WHNCD72 Kitchen/Utility Sink Documentation
---

Whitehaus WHNCD72 Noah's Collection Brushed Stainless Steel Double Bowl Wall Mount Utility Sink
$3,49300

$3,493.00

Save $1,497
---
---
Ships within 2 - 3 business days
Free Shipping on All Orders!
No Sales Tax Outside of PA!
---
---
Noah's Collection Utility Sinks are essential to any work area or kitchen and are unsurpassed in quality and design. Whitehaus Collection has constructed these sinks from 16, 18, and 20 gauge, 304 stainless steel with an 18/8 chrome and nickel content. The benefit of this quality stainless steel ensures them to be scratch, stain and chip resistant making it one of the most durable sinks on the market. Noah's Collection adds beauty to its durability by using a fine brushing technique that enhances the sheen and luster of the final product. Noah's Collection Brushed Stainless Steel 72" double bowl wall mount utility sink has four diagonal grooves in each bowl to channel water directly to the drains and 2.5" far right center drain in the left bowl and 2" offset drain in the right bowl. Bowls are equal in size and depth and is perfect for garages, laundry rooms or any commercial area.
Whitehaus WHNCD72 Kitchen/Utility Sink Features
18 gauge, 304 series stainless steel
18/8 chrome and nickel content
Zero radius corners
Bowls are equal in size and depth
2" offset drain (right bowl) & 2.5" far right center drain (left bowl)
Each bowl has 4 directional drain grooves to channel water directly to the drain
Additional wall mount supports: BRACKETD72
---