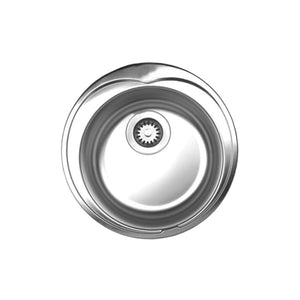 ---
Whitehaus WHNDA16 Kitchen Sink Specifications
Weight (lb.): 12
Color/Finish: Brushed Stainless Steel
Material: Stainless Steel
Product Type: Kitchen Sink
Bowl Shape: Round
Installation Type: Drop-in
Recommended Drain: RNW35, WH200, NRNW35A, NRNW35B
Recommended Grid: WHN16AG
Number of Bowls: 1
Drain Location: Rear Center
Prop 65: No
Inside Bowl Dimensions: 16" diameter x 6.5"
Item Length (in.): 20
Item Width (in.): 20
Item Height (in.): 6.5
Whitehaus WHNDA16 Kitchen Sink Documentation
---

Whitehaus WHNDA16 Noah's Collection Stainless Steel Large Round Drop-in Sink
---
---
Ships within 2 - 3 business days
Free Shipping on All Orders!
No Sales Tax Outside of PA!
---
---
Whitehaus Collection's Noah's stainless steel sinks are made from 18-20 gauge, 304 stainless steel with an 18/8 chrome and nickel content. The benefit of this quality stainless steel ensures them to be scratch, stain and chip resistant, and one of the most durable sinks on the market. Ideal for any kitchen our sinks are buffed with a fine brushing technique that enhances the sheen and luster of the final product. Noah's Collection stainless steel sinks come equipped with full undercoat over noise reduction dampening pads to reduce any noise of running water, or dropping utensils. This large round sink with 3.5" center completes the look in any kitchen.
Whitehaus WHNDA16 Kitchen Sink Features
20 gauge, 304 series stainless steel
18/8 chrome and nickel content
Full undercoat under noise reduction dampening pads
3.5" rear center drain opening
Includes sink template
---