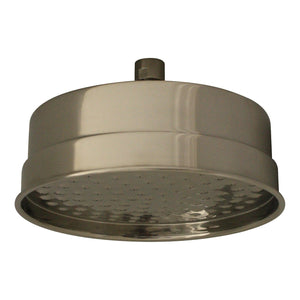 ---
Whitehaus WHOSA29-8-BN Bathroom Shower Head Specifications
Weight (lb.): 5
Color/Finish: Brushed Nickel
Material: Brass
Product Type: Bathroom Shower Head
Installation Type: Shower
Prop 65: No
Item Length (in.): 8
Item Width (in.): 8
Item Height (in.): 6.625
Whitehaus WHOSA29-8-BN Bathroom Shower Head Documentation
---

Whitehaus WHOSA29-8-BN Showerhaus Watering Can Showerhead with Adjustable Ball Joint
---
---
Ships within 2 - 3 business days
Free Shipping on All Orders!
No Sales Tax Outside of PA!
---
---
Whitehaus Collection's Showerhaus Showerheads assist you in creating the ultimate shower spa in your own home. Bring rejuvenation to the next level with this durable and stylish solid brass, watering can showerhead with 141 easy to clean spray holes and adjustable ball joint in brushed nickel.
Whitehaus WHOSA29-8-BN Bathroom Shower Head Features
141 Easy to clean nozzles
Adjustable ball joint
Solid Brass Construction
8" Showerhead Diameter
---