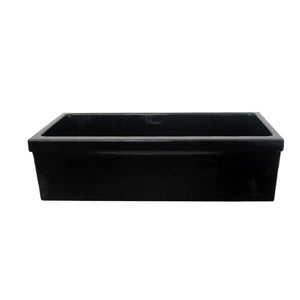 ---
Whitehaus WHQ536-BLACK Kitchen Sink Specifications
Weight (lb.): 85
Color/Finish: Black
Material: Fireclay
Product Type: Kitchen Sink
Bowl Shape: Rectangle
Installation Type: Front Apron
Recommended Drain: RNW35, RNW50, WH200, WH007
Recommended Grid: GR3214
Number of Bowls: 1
Drain Location: Center
Prop 65: No
Inside Bowl Dimensions: 33 1/4" x 17" x 9"
Item Length (in.): 36
Item Width (in.): 20
Item Height (in.): 10
Whitehaus WHQ536-BLACK Kitchen Sink Documentation
---

Whitehaus WHQ536-BLACK Farmhaus Fireclay Quatro Alcove Large Reversible Sink
---
---
Ships within 2 - 3 business days
Free Shipping on All Orders!
No Sales Tax Outside of PA!
---
---
Whitehaus Collection is an industry leader, offering the widest selection of fireclay sinks in the market. Every sink is handmade from natural clay, molded, and then baked into an elegant, smooth and glossy finish. Proven to be durable and resistant to extreme temperatures fireclay sinks are visually appealing and timeless in design. The 36" Large Quatro Alcove reversible fireclay sink with decorative 2.5" lip on one side and 2" lip on the other is featured here in your choice of White, Biscuit, Black or Sapphire Blue.
Whitehaus WHQ536-BLACK Kitchen Sink Features
3.5" center drain
Sink is finished on all four sides
Reversible with a decorative 2.5" lip on one side and a 2" lip on the opposite side
Recommended that sinks be supplied to your cabinetmaker prior to the fabrication of your cabinets and counter tops.
---